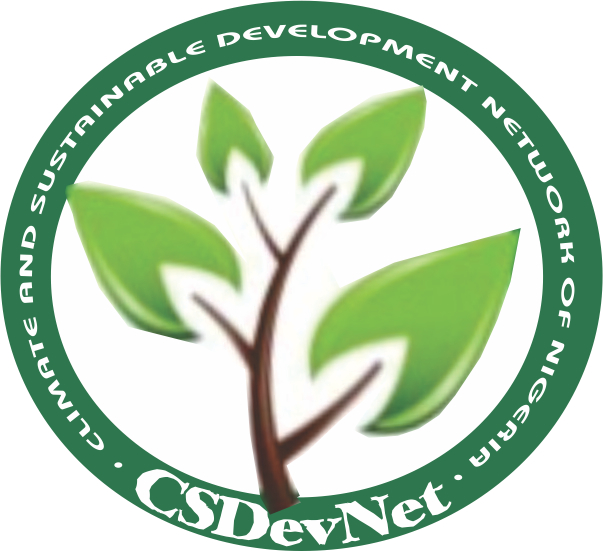 Consultancy on Country Analysis of the outcome of COP 25 and the effects of Covid-19
in the implementation of the outcomes
Introduction
Established on the 10th of November 2012 with a focal commitment to unifying and strengthening the voice and offerings of the Nigerian civil society using accountability, volunteerism, networking and respect for human dignity as building blocks and key pillars of a resurgent civil society movement in Nigeria, Climate and Sustainable Development Network of Nigeria (CSDevNet) is the leading network of civil society organisations working on climate change and sustainable development in Nigeria. CSDevNet is the Nigerian national chapter for Pan African Climate Justice Alliance (PACJA) as well as the national focal organisation for several international and regional organisations that are relevant to its core focus: climate change and sustainable development.
Scope and Overall Objective of the Consultancy
COP 25 took place in the Spanish city of Madrid, thousands of miles from Chile where it was originally scheduled to take place. This change of location did not change the central business of this very important meeting, which was meant to complete the unfinished business of the COP24. Notably, COP25 was expected to finish the work on the rules to operationalize the Paris agreement, and allow Parties and stakeholders to enhance their emission reduction ambition for 2020.
Scientific data is becoming increasingly compelling, especially the reports by IPCC and IPBES on 1.5°C temperature increase. The available data indicates to us the dangers and costs of a business-as-usual pathway and the benefits of urgent and transformative actions including halving emissions by 2030. Demand for urgent and decisive climate action has also soared. Through the global climate strikes of last September, young people around the world have clearly indicated they will not subscribe to the theory that we can still do business as usual and expect different outcomes.
We therefore need a holistic ambition approach that is commensurate with the climate emergency facing the world.  In this regard, we the African civil societies went to Madrid with the following demands
Africa should be recognized as a region with special circumstances and needs
Enhanced Nationally Determined Contributions (NDCs) from the biggest emitters should in quality and quantity, aim at significant emissions reduction
In respect to Article 6 of the Paris Agreement, we call for robust social and environmental guidelines (Human rights-based approaches) for all international corporations and carbon market mechanisms
Review Warsaw International Mechanism on loss and damage to have a clear Means of Implementation (Finance) especially for emergency response in Africa
Scale up finance and capacity building that can help African countries build resilience and take on their chosen low carbon development pathway in the spirit of Article 9.4 of the Paris Agreement
A call for Common Timeframes for harmonious Evaluation
African women and young people are most at risk from impacts of extreme weather. We need to be fully aware of traditional roles women and men play in the formal and informal economy as well as the household level and recognize that women are impacted most by climate change yet they are usually underrepresented in climate change negotiations and decision making.
African CSOs therefore called upon the parties to:
Take action to implement the activities under the Gender Action Plan in order to strengthen consideration of gender aspects in climate related activities.
Continue with Lima Work Programme in order to ensure the integration of gender considerations into processes under the Paris Agreement.
Allocate adequate financial and human resources to build the needed capacity on gender dimensions of climate policy and action at national level and to comply with the requirements on gender under the Paris Agreement Implementation Guidelines
Follow the recommendations in the Paris Agreement Implementation Guidelines to include gender-responsive adaptation action and traditional knowledge, knowledge of indigenous peoples and local knowledge systems related to adaptation communications and to report on this.
The outcome of COP25 did not go down well with most participants, particularly the African participants in the negotiations since a lot of their expectations were not met. The unprecedented COVID-19 pandemic only escalated this challenge since the long awaited COP26 was postponed to 2021 further delaying the opportunity to redeem the lost opportunity in Madrid.  For Africa, the need to ensure that Glasgow is successful is even more urgent, given the continents inordinate vulnerability and limited ability to respond to the impacts of already occurring climate change. Many African economies are already incurring losses of around 3% of their GDP to climate related impacts. This limits their ability to achieve any of their sustainable development goals. COP26 will thus become even more critical to reach agreement on how to implement the Paris Agreement and especially on how to ensure that the agreed climate actions begin a downward trend in greenhouse gas emissions. But for COP26 to avoid the pitfalls of COP25 it is fundamental that we adequately review the challenges faced by the parties at COP25 and begin the process of identifying the solutions long before we congregate in Glasgow in 2021.
It is critical for African countries to take stock of the dismal outcome of COP25 and in this regard, PACJA/CSDevNet is looking for a Consultant who will analyse the impact of COVID-19 in the implementation of the outcome of COP 25 and preparation for COP26 at country level.
Objectives of the study
To Carry out an analysis of the country's position for COP25 along with the outcome of COP25 and in the light of COVID19
To identify the gaps in the country's position paper and propose recommendations for the country position paper for COP26
To recommend strategies of meaningful CSOs engagement in development of the country's position paper for COP26.
Methodology
This study will largely be done as a desktop review but the consultant will also interview stakeholders including government officials, CSOs networks, communities, private sector among others
Qualification of the Consultancy Team
The Consultant/Consulting Team's Qualifications and Experience shall include the following:
A strategy development expert with at least a Master's degree in any of the following: Climate change, Environmental Management, Law, Public policy, Sustainable Development, Project Management with not less than 10 years of experience in policy, strategy, sectorial reforms, international development, and regional advocacy with a significant number of references in the climate change/environment sector and for international donors.
Team members are expected to have expertise in any of the above-mentioned fields or must had attended the COP25 held in December 2019 at Madrid, Spain including knowledge and/or experience in strategy engagements with CSOs, regional organisations, international organisations or multi-national organisations
Experience of working in collaboration with the Nigerian government, Ministry of Environment, regional inter-governmental institutions or regional programmes in Africa
Knowledge of protocols, rules, procedures of the civil society organisations
Demonstrated knowledge of environmental and socio–economic development issues and challenges in Africa
Good knowledge of CSDevNet
Duration of the Consultancy
The consultancy duration is four weeks (2nd – 26th September 2020)
Payment/Fees
The Consultancy fee, terms and conditions of payment will be agreed with the successful consultant/team.
Location and Reporting Structure
The Consultant/team will report directly to CSDevNet's National Network Coordinator with close working contacts with the Programmes Officer and functional linkages with relevant Secretariat Staff.
All applications are to be sent to:
CSDevNet Secretariat, or info@csdevnet.org
For more info, log on to www.csdevnet.org
Applications received after 18h00 (GMT-1) on Sunday the 30th of August 2020 will not be considered.