.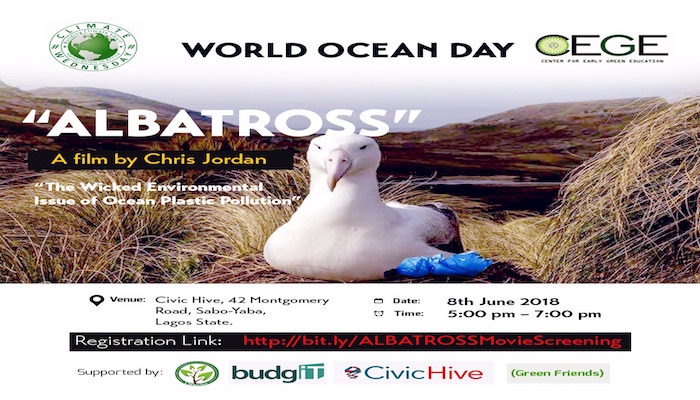 In the heart of the world's greatest ocean, a story is taking place that may change the way we see everything.
ALBATROSS is a powerful visual journey into the heart of a gut-wrenching environmental tragedy. On Midway island, in the remote North Pacific Ocean, tens of thousands of Laysan albatross chicks lie dead on the ground, their bodies filled with plastic. ALBATROSS takes us on a journey, as we face this tragedy we must also confront our own complicity head on.
This beautiful and powerful film will draw you in and leave you contemplating the impact of our disposable society and what we can all do about it.
Organised by Climate Wednesday and CEGE with sponsorship from budgiT and CivicHive, the film screening will take place between 17-19hrs on the 8th of June 2018 at Civic Hive, 42 Montgomery road, Sabo-Yaba, Lagos, Nigeria.
To register for the event which is free, click http://bit.ly/ALBATROSSMovieScreening