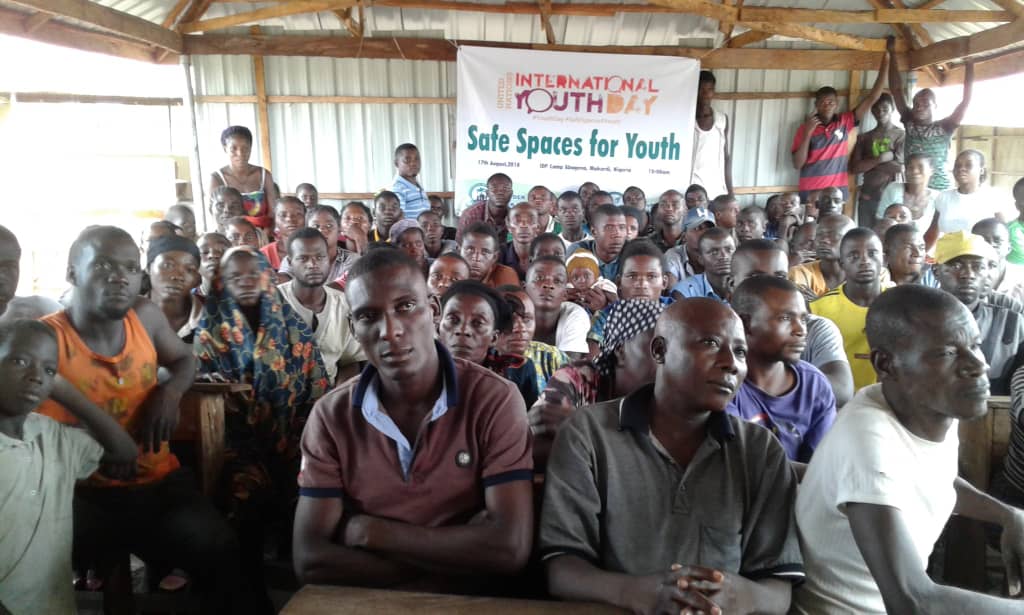 To commemorate the 2018 United Nations International Youth Day, Gender and Environmental Risk Reduction Initiative (GERI) in partnership with Climate and Sustainable Development Network (CSDevNet), organized an interactive session for youths at one of the internally displaced persons (IDP) camps in Benue State.
The IDP Camp at Abagena, Makurdi Nigeria was the venue of the activity held on Friday 17th August 2018.
The theme for this year's international youth day, Safe Spaces for Youths, was the focus of the interactive session for the youths at the IDP Camp.
According the Executive Director of GERI, Elizabeth Jeyiol who also doubles as the North Central Coordinator of the Climate and Sustainable Development Network (CSDevNet), "we decided to mark this year's international youth day with young people at the IDP Camp because their present situation and circumstances appear hopeless and they seem to have been forgotten by the large society with their voices lost in the never ending search for an end to the crisis." "We are here today so they can feel safe again and be motivated to hope for a return to their original homes," Ms Jeyiol added.
In a message to commemorate the 2018 International Youth Day, Atayi Babs, CSDevNet's National Network Coordinator stated that "goal 11 of the SDGs specifically emphasizes the need for the provision of space towards inclusive and sustainable urbanization. Furthermore, the New Urban Agenda (NUA) reiterates the need for public spaces for youth to enable them to interact with family and have constructive inter-generational dialogue."
"As more and more youth grow in a technologically connected world, they aspire to engage deeper in political, civic and social matters, and the availability and accessibility of safe spaces becomes even more crucial to make this a reality hence the need to assure these young ones, especially those in the IDP camps that they would not be left behind," Atayi said.
In his remarks, John Igbayima, a Programme Officer at GERI stated that, "we saw the need to come and mark this special day with you and talk about safe spaces for youths, because, we are aware that this is not the safest place for you right now, but we need to share ideas and learn from you about to create safe spaces for youths and how it affects our society generally. This interactive session affords us the opportunity to amplify your voices".
The interactive session featured presentations and discussions on the theme Safe Spaces for Youths in relation to Governance and leadership, community development, environment and gender equality. In their responses and contributions to the discussions, some of the youths had this to say.
Juliana Jijigi said ''if youth form cooperative societies and are working together with a common motive, they will create safe spaces for themselves''.
On his part, another youth John Orsar responded that "the responsibility of creating safe space hinges on youth themselves. If youth can mobilize themselves and have a common voice that, enough is enough, they will take over from the old leaders who are refusing to retire. By so doing, they already know the plight of youth and what is good for their communities. This will give everybody freedom to his or her self".
In concluding the session, the participants agreed that although government and other stakeholders have roles to play, creating safe spaces for youths begins from the youths themselves getting involved in their own lives.