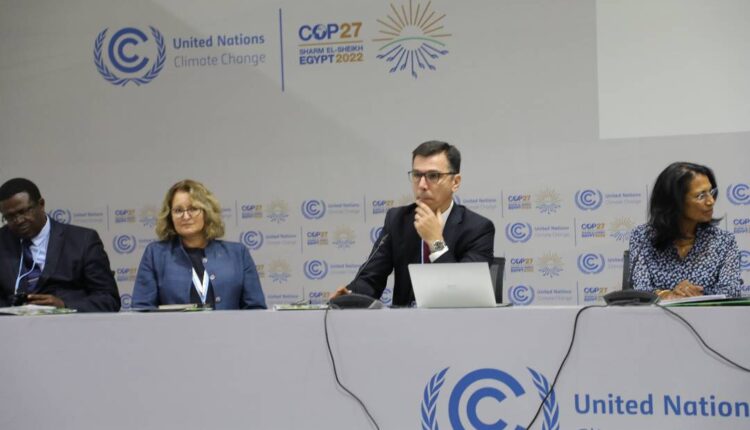 In continuation of efforts to align ambitious climate targets with the demands of frontline communities, the Climate and Sustainable Development Network (CSDevNet) held a side event which brought together a host of Food Systems groups attending the 27th Session of the Conference of the Parties (COP27) in Sharm El-Sheikh, Egypt.
The COP27 side event, which was held on Friday, November 11th 2022, comprised Technologies for African Agricultural Transformation (TAAT) of the Africa Development Bank (AfDB),  The Consultative Group on International Agricultural Research (One-CGIAR), World Food Programme (WFP), Queen Mary University, UK, WorldFish Centre, and the Pan African Climate Justice Alliance (PACJA).
With a thematic focus on "African Imperatives of Resilient Water-Energy-Food Systems under a changing climate",  the side event explored vistas for an integrated and holistic nexus approach to Africa's food systems, energy access and climate adaptation. The evolving role of partnership, research and innovation in food, energy and water systems was equally considered as critical elements of the efforts needed to implement the Paris Agreement.
The side-event will equally outlined perspectives and solutions from interventions such as the African Emergency Food Production Facility (AEFPF), African Activists for Climate Justice (AACJ), and the Advance Climate-Smart Aquaculture technology (ACLiSAT) as opportunities for a food-secure Africa under a changing climate.
Panellists from a wide range of backgrounds weighed in on the solutions presented in an engaging "talk show"-format discussion.  
Steve Abuh, CSDevNet's Programme Manager in his welcome remarks, opined that climate-related changes in weather patterns, unreliable rainfall and the effects of drought threaten Africa's agriculture.
"Moreover, some of the major food crops in Africa are "vulnerable to temperature increase, rainfall changes, and carbon dioxide increase", he said.
"These factors alone make the agriculture sector highly vulnerable to climate-related shocks. Climate adaptation measures, therefore, require research and development components to identify resilient crops and staples for African agriculture. It also requires investment in energy needed for scaling up irrigation coupled with localised climate monitoring systems and data to ensure resilience and food security," Abuh added.
Dr Martin Fregene, Director of Agriculture Agroindustry at AfDB on his own part, highlighted that a holistic approach involving water, energy and food systems must be considered to solve the food insecurity issues across Africa.
"The agriculture sector is the economic and social backbone of approximately 500 million smallholder farmers in developing countries, making the sector the largest source of incomes, jobs, and food security," he said.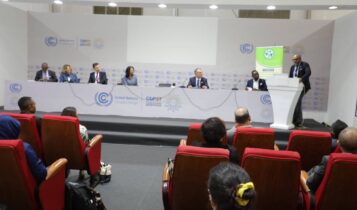 "Hence, it is crucial to ensure sustainable food production systems and implement resilient agricultural practices that increase capacity for adaptation to climate change, droughts, and floods. Doing so can not only help to promote food security but also lessen the impact that climate change and extreme weather events have on escalating social conflicts and causing forced migrations," he added.
Dr Claudia Sadoff, Executive Managing Director of CGIAR, averred that water, energy and food systems are tightly interconnected.
"But these systems are faced with pressures of varying natures and levels of urgency which need to be better understood, especially as nations work toward achieving the UN 2030 Agenda's sustainable development goals by 2030," she said.
"CGIAR has been able to improve climate resilience in farming communities in 21 countries through the establishment of Climate Smart Villages which test and scale resilient food system innovations. We have also contributed to building a resilient food system in the continent by increasing rice yield in 13 countries in sub-Saharan Africa by 0.5 to 1 ton per hectare and profitability by US$200 per hectare through a smart mobile crop management tool called 'RiceAdvice'," Claudia highlighted.
Dr Martin Frick WFP's Director of Global Office in Germany; and Dr Fernando Barrio, Director of International Engagement at Queen Mary University of London called for the conscious engagement of all stakeholders in efforts to enhance ambition for climate action in food, energy and water systems, and mobilising leaders from government, business, tech and innovation, academia, civil society and farming, with emphasis on harnessing opportunities and local solutions that work.
In the harmonised recommendations, CSDevNet and her partners demand that water, energy and food systems be considered an interconnected trajectory on the path to overcoming hunger or malnutrition in Africa and building resilience to climate change.
They also encouraged the removal of barriers such as inadequate funding, gender discrimination and obsolete technologies. Although conventional climate finance mechanisms like funding from the Green Climate Fund and Adaptation Fund can be used to launch climate change programmes that can support rural development and agriculture development initiatives, climate finance inflows to Africa to facilitate climate change mitigation, adaptation, and capacity building are far from satisfactory in terms of the size, source, and distribution.
There is a funding disparity between climate finance for mitigation activities and climate finance for adaptation activities, with more resources being invested in mitigation actions like the deployment of renewable energy than in adaptation actions like better water resource management (including the reduction of drought and flood risk) and the development of more effective irrigation methods.