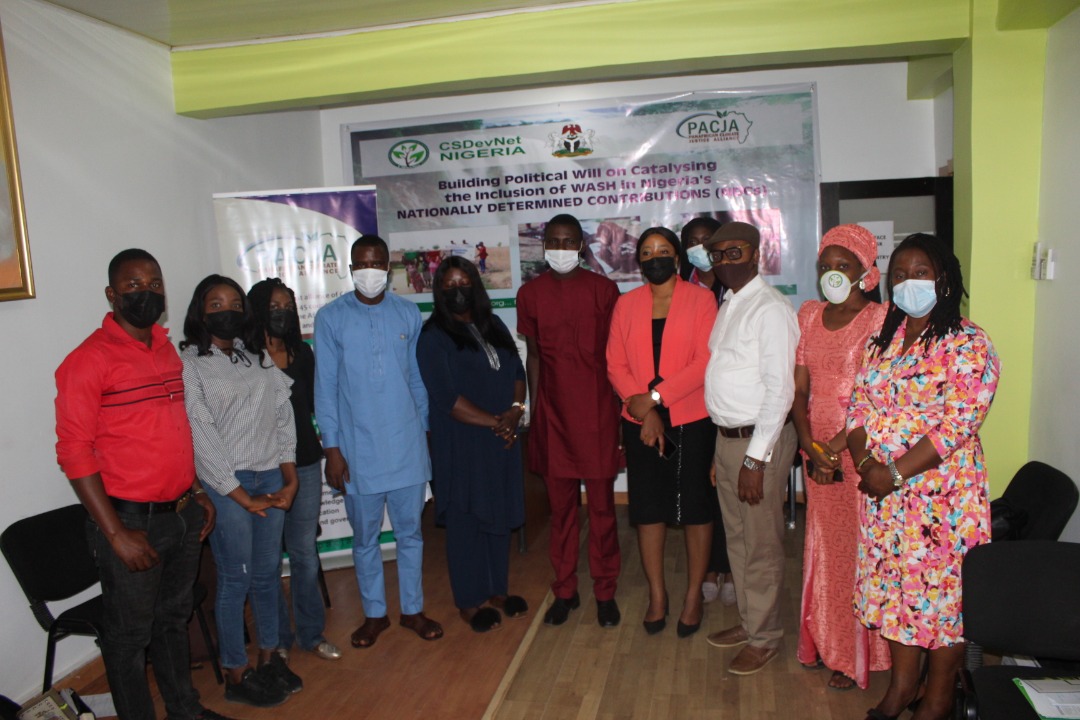 The Climate and Sustainable Development Network (CSDevNet) on Thursday, 4th of March 2021 in Abuja, called for national funding mechanisms to meet the water and sanitation needs of Nigeria.
Dr Ibrahim Choji mni, the Chairman Board of Trustees of the Organisation made the call at the opening of a Meeting on Building Political Will on Catalysing Inclusion of WASH in Nigeria's Nationally Determined Contributions (NDCs) in Abuja.
He also called for inclusion of water and sanitation needs into Nigeria's NDCs, saying that the impact of climate change was inherent in the current water issues in the country.
The News Agency of Nigeria (NAN) reports that the Paris Agreement requests each country to outline and communicate their post-2020 climate actions, known as their NDCs.
"Together, these climate actions determine whether the world achieves the long-term goals of the Paris Agreement and to reach global peaking of greenhouse gas (GHG) emissions as soon as possible".
Dr Ibrahim said it was important for all relevant stakeholders to build political will to prioritise and adopt innovative means to manage increasing demand in the production, supply and utilisation of water in all sectors.

According to him, WASH crisis in Nigeria constitutes an invitation for newer and innovative ways of ensuring WASH security for all Nigerians.
"The equitable and sustainable management of all the country's water resources remains a credible key to achieving a prosperous Nigeria as there is no doubt that we are blessed with a blue economy.
"It is CSDevNet's belief that the current funding landscape for the WASH sector is grossly insufficient to meet the financial deficit and, most importantly, achieve SDG 6.
"This calls for innovative approaches for financing water and sanitation infrastructure as a huge challenge lies in the mobilisation of financial resources to achieve the SDG 6 target of ensuring that everyone has access to potable water and sanitation".
He added that Nigeria must ensure that appropriate national spending targets for quality investments in WASH were consistent with national sustainable development and climate change strategies.
"Nigeria must prioritise the implementation of programmes that seek to extend access to water supply and sanitation services and increase the productivity of water used in various sectors".
He noted the importance of working with all stakeholders to close the gap in Nigeria's water infrastructure deficit, especially by prioritising the implementation of water projects in Nigeria's NDCs.
He added that more than half of the SDGs were linked to climate change and water, which showed how important it was to tackle the issue.
Dr Elizabeth Jeiyol, Executive Director, Gender and Environmental Risk Reduction Initiative, said if Nigeria gets improved access to water and sanitation correctly, it would help to meet the sustainable development goals by 2030.
According to her, Nigeria cannot be pretending that all is well within the water and Sanitation sector, saying it is important for WASH needs to be included into the NDCs.
She said it was worrisome that Nigeria still remained the highest number of persons defecating openly worldwide, saying climate change increases water insecurity and accessibility, water stress among others.
Jeiyol said the water and sanitation sector could contribute to climate change mitigation to achieve a sustainable low carbon future.
She said that civil society groups had a big role to play in advocating for higher ambitions and amplify the voices for the poor, vulnerable and marginalised populations.
Mrs Chioma Edeh, Department of Climate Change, Federal Ministry of Environment, said government could not do it alone and platforms should be created to discuss how to address the situation.
According to her, a lot of activities are being done to achieve the Paris Agreement on Climate change, saying inclusion of water and sanitation needs are not left behind.
She said a gap analysis summary was being formulated to see how to follow up interventions for including WASH needs in the country's NDCs.
NAN reports that CSDevNet is a network of over 300 civil society organisations cutting across the six geo-political zones in Nigeria. (NAN)