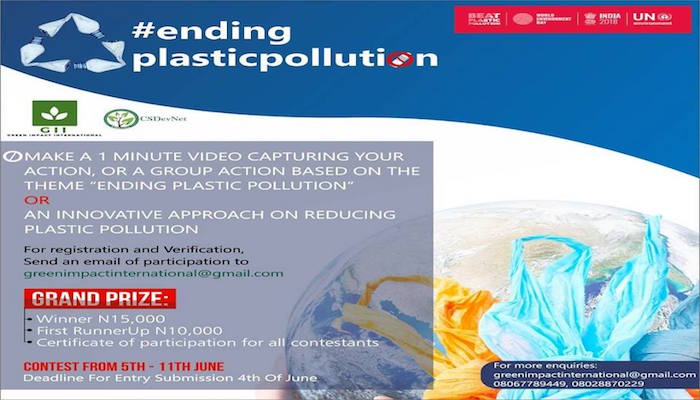 In a bid to create awareness for the 2018 World Environmental Day under the theme Beat Plastic Pollution, Green Impact International in collaboration with Climate and Sustainable Development Network (CSDevNet) organised the Ending Plastic Pollution Video Contest which took place on her instagram (@greenimpactint.africa) social media platform.
The contest, designed as a means to inform people on the dangers of plastic pollution and effective ways of controlling plastic pollution, took place between the 4th of June and 11th of June, 2018.
Contestants were instructed to make a one minute video capturing an innovative individual or group action for the World Environmental Day. With the incentive of cash prizes, volunteer and membership forms, a total of four contestants (Omorinola Akeredolu-ale, Phillip Elekwa, Odey David Edrah, and Omolewa Comprehensive College) emerged as finalists.
The contestants' video entries were judged on parameters which were innovation, number of engagement (likes and views), Quality of video, and relevance of action to the cause. After an appraisal of the video entries by Isaiah Owolabi (Co-Founder, Hacey Health Initiative), Atayi Babs (National Network Coordinator, Climate and Sustainable Development Network), Abiodun A. Abiodun (Executive Director, People-to-People Movement Network, Dr. Olusheyi Oni (Executive Director,  MobileMedics), Kayla Kenny, (Board Member, Green Impact International Society, Canada), and Alfred Acheampong (Board Member, Green Impact International Society, Canada), the panel of Judges selected Omorinsola Akeredolu-ale as the winner of the contest.
The contest which was executed by Temitayo Taiwo Bamgbose (Green Impact International's Social Media Strategist) was supported by prestigious organizations, notably; Climate and Sustainable development Network of Nigeria, Hacey Health, Green Impact International Society, Canada and People to People movement.
With the videos getting thousand of views and hundreds of likes in social media engagement, the  contest was able to fulfill it's primary objective of educating and enlightening the public on effective and innovative ways of controlling plastic pollution. Even with the singular limitation of not being able to fund a very large scale publicity for the contest, the contest turned out to be an overall success which can be effectively replicated to yield better outcomes in years to come.