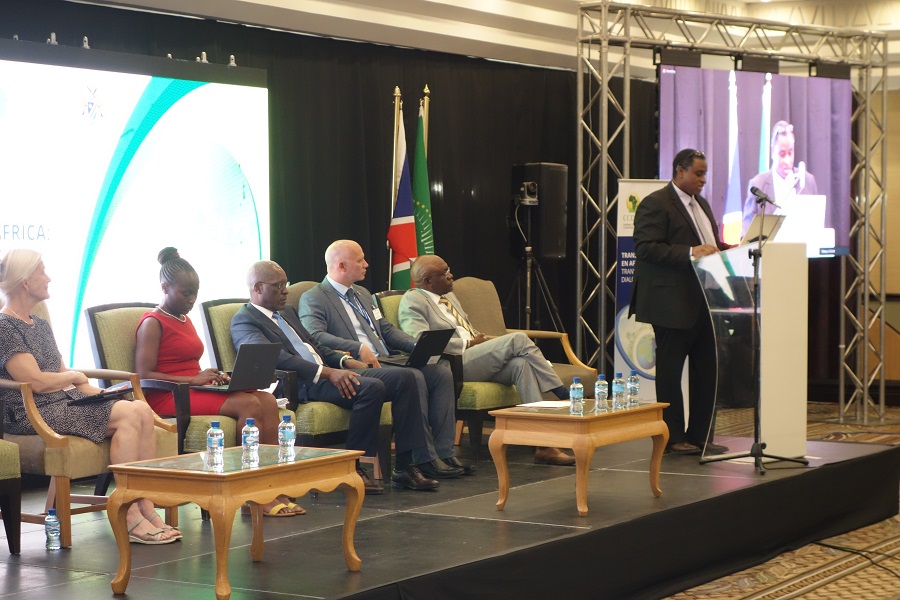 By Jiata Ekele
Representatives from the Climate and Sustainable Development Network (CSDevNet) have joined other African civil societies, ministers, policymakers, research institutions and development partners to call for a clear trajectory pathway to a just energy transition in Africa.
This call was made at the Tenth Conference on Climate Change and Development in Africa (CCDA-X) conveyed by the Climate for Development in Africa initiative partners: Africa Union Commission (AUC), the African Development Bank (AfDB), United Nations Economic Commissions for Africa (UNECA), Pan-African Climate Justice Alliance (PACJA); and the Government of Namibia, in Windhoek the capital of Namibia from 24 to 28 October 2022. Additional support for the Conference is being provided by the Government of Sweden.
Speaking from the event, Mithika Mwenda – Executive Director of PACJA, highlighted how storms, hurricanes, and droughts have decimated communities and hampered economic activity at the local and national levels, and how Africa has not been exempt from the effects of climate change that have weakened the world's economies.
"Africa has been disproportionately affected in comparison to other continents due to its unique vulnerabilities and poor capacity for adaptation, despite the fact that it generates a very small amount of the world's greenhouse gas emissions. The ongoing Russia-Ukraine crisis and other unfavorable geopolitical headwinds have adversely impacted African countries more than other regions, reducing their chances for economic progress," he decried.
"Many African economies have, moreover, been severely undermined by the global response to the COVID-19 pandemic, which has increased debt burdens, reduced fiscal space and heightened security risks. The general direction of travel is clear: countries are striving to build clean-energy economies, including by leveraging their ongoing efforts to recover from the COVID-19 pandemic," added Harsen Nyambe, Director of Sustainable Environment and Blue Economy at Africa Union Commission.
Ulla Andrén from the Embassy of Sweden at Ethiopia further outlined that while there was a broad agreement that a transition to a carbon-neutral future is necessary, there are significant differences of opinion on the proper pace, structure, content, and scope of that transition.
"There are no precedents for the work that countries have committed to complete in just a few decades, thus it is important not to underestimate the scope of the shift. The scope of the transition, its speed, and the stances taken by nations all depend on the policy choices made by governments today. According to the prevailing opinion, nations that have the foresight to make strategic investments in low-carbon technologies will have an advantage in the economy of the future while also preserving the environment," she said.
Jean-Paul Adam, Director for Technology, Climate Change and Natural Resources Management at UNECA said without energy, achieving the Sustainable Development Goals would be nearly i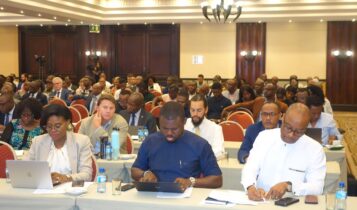 "Energy is the golden thread that indisputably connects all of the SDGs. Production, industrialization, expansion, and social development are all supported by the energy sector. There is broad agreement that the current energy system needs to undergo a significant transformation in order to achieve sustainability and promote green development routes," he noted.
According to Kevin Kariuki, Vice President, Power, Energy, Climate and Green Growth at AfDB, said making the shift away from energy systems based on fossil fuels "just" presented enormous hurdles.
"Because the change will be disruptive, it must be handled carefully to make sure it is truly equal, promotes diversity, and doesn't leave anyone behind. The Paris Agreement's principle of shared but differentiated responsibilities is violated by the expectation that all nations, regardless of their historical or current culpability for anthropogenic climate change, must set net-zero emission objectives for 2050," he stressed.
Tom Alweendo, Minister of Mines and Energy in the Republic of Namibia, added that:
"Importantly, the capacity of stakeholders in terms of technology, their financial competence, and the effectiveness of governance structures all have a role in their potential to achieve net-zero. Notably, natural gas must be acknowledged as a respectable transition fuel. While Africa is being pressed to embrace clean energy systems more quickly than its development imperatives can allow, it is hypocritical for advanced economies in Europe and elsewhere to continue utilizing their fossil fuel resources."
In conclusion, Stephen Abu, Programme Manager at CSDevNet drew that: "Africa must consequently determine and map out its own course towards transition. To boost the global community's climate ambition and hasten the transition process, justice must be upheld, absorbed, and given the level of prominence it deserves. It is morally and economically unacceptable to have an unfair or unequal transition."
Jiata Ekele, Knowledge Management and Extension Assistant at CSDevNet also added that the transition away from fossil fuels needed to be handled carefully.
"In order to mobilize the necessary financial resources, creative strategies and processes will also be necessary. Given the seriousness of the climate situation, the transition process will surely be worthwhile even though it won't be simple. African nations actually run the risk of falling far behind as other continents successfully change their economy if coordinated measures are not made," she noted.