A member organisation of Climate and Sustainable Development Network (CSDevNet) in the South-east region of Nigeria, the Foundation for Environmental Rights Advocacy and Development (FENRAD), which promotes pro-democracy and environmental rights advocacy, celebrates the International Day for Biological Diversity (IDB) 2022.
Biodiversity Day 2022 comes with the topic 'Building a Shared Future for All,' being a call on humanity to do its best towards ensuring a fuller and better earth.  Indeed, this global initiative reminds us of the need to put effort into the campaign to attain a greener and fuller earth than we have today. This is a global good!
The IDB was created  on December 29, 1993, the date the Biological Diversity Convention entered into force following the United Nations General Assembly's (UNGA's) Second Committee guideline.
Afterwards, the UN General Assembly (UNGA) adopted May 22 as the IDB day to mark the  Convention's adoption. This was made possible by the Nairobi (Kenya) Final Act of the Conference for the Adoption of the Text of the Convention on Biological Diversity in 2000.
Since then, the world has marked this special day which today has become part of Sustainable Development Goals (SDGs)) advocacy.
Comrade Nelson Nnnana Nwafor, Executive Director of FENRAD said that: "Today's event means much to us at FENRAD as an environmental rights group. The world has indeed lost lives, whether aquatic, terrestrial, or any other aspect one wishes to look at it."
The issue of loss of biodiversity in the current global environmental regime is not new with attendant dangers emanating from ecological collapse evident in unfriendly human activities like overgrazing, deforestation, ocean acidification, invasive species, rapid industrialisation and urbanisation, bush burning, etc.
"The theme 'Building a Shared Future for All' beckons on us today to show greater commitment and responsibility towards liberating our endangered earth, especially in this day and age of climate change. It is a message we must not only heed but take seriously," he added.
All lives matter
To buttress this point, one  must look at the earthworm and the farmer. Considered a little tiny organism, the earthworm deposits minerals into the soil and improve soil structure leading to a rich harvest, but the farmer is eager to obliterate this organism.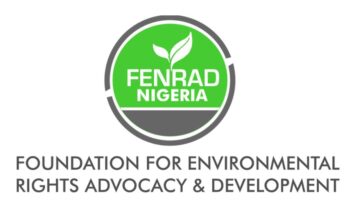 Survival of all organisms in the ecosystem, available data show, depends a great deal on the survival of other species, and this includes the survival of man. This is why environmental science talks about symbiosis, a healthy, mutual and interdependent affair among organisms/lives.
In his remark, Barr. Akande Femisi, Head Corporate Accountability and Huma Rights Enforcement FENRAD said: "Today, in line with achieving a fuller and greener planet, FENRAD calls on all global regimes, governments, industrialists and men of conscience to desist from activities like logging, poaching, carbon emissions, extermination and all forms of unkindness to the environment."
"Little lives can save us if we agree to live and let other species live; this is the fuller earth we advocate. It is indeed a shame that in Nigeria, governments talk much about agriculture as a pathway to economic diversification and development and yet do little to encourage that sector. Worst is, among all the major political parties spending millions of Naira on the expression of interest and nomination forms, none talks of biodiversity or the need to preserve the earth and lives thereof," he explained
Akande also stressed that: "This environmental approach in national politics pales in significance when compared with the policies and advocacies of parties like the Green Party in, say, America or elsewhere or even when compared with globalists and statesmen like Al Gore who champions environmental awareness through 'Live Earth' musical concert. Environmental responsibility and biodiversity need to form major plank of political parties' campaigns and manifestos in 21st-century Nigeria!"
"There's no greater or better gift and the legacy we can bequeath to the next generation than fuller and greener earth where those who come after us  can deal and interact with diverse species in a thriving and symbiotic world. We end it by saying, Happy Biodiversity Day. May we build a shared future for all lives, for us and for those after us," he concluded.