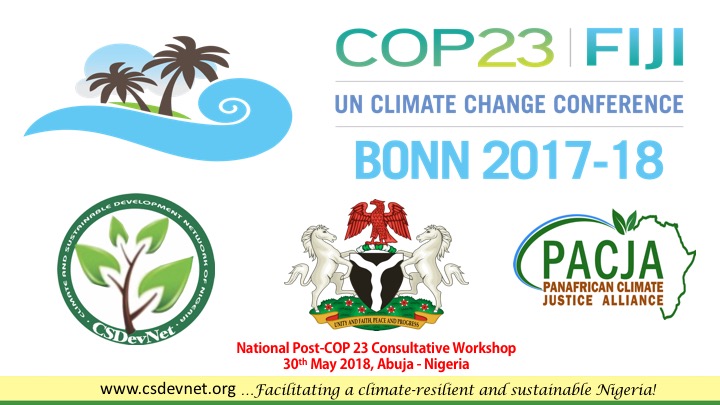 At the 23rd Conference of Parties to the UNFCCC in Bonn 2017, Parties got down to the serious work of preparing the rulebook to bring the Paris Agreement to life and setting the stage for the 2018 Talanoa Dialogue on the progress towards the agreement's goal to limit the average temperature increase to below 2°C. Also, for the first time, countries through the Koronivia Decision, reached a historic agreement on agriculture that will help them develop and implement new strategies for adaptation and mitigation within the sector.
What are the implications of these outcomes for Nigeria? To what extent do these outcomes align with Nigeria's NDCs? These and many more are questions that CSDevNet, in collaboration with the Department of Climate Change of the Federal Ministry of Environment and other partners, would like to explore to at this workshop.
The workshop, which is expected to bring together state and non-state actors from the six geo-political zones of the country and beyond, is scheduled to hold as follows:
Date: 30th of May 2018
Venue: Heinrich Böll Foundation Hall, Jabi – Abuja
Time 10:hrs
In view of the limited spaces available, all prospective participants are required to register for the workshop by filling this form: https://goo.gl/forms/mEg3jodX0SIDhdC13
As slots would be allotted based on a number of reasons, interested persons are strongly encouraged to register early.