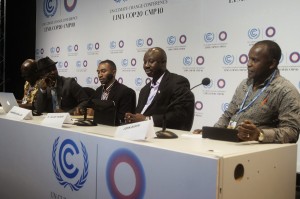 African civil society at the climate talks in Lima, Peru, has identified renewable energy as key to stop deforestation and reduce poverty on the continent.
They therefore support the proposed Global Renewable Energy Partnership put forward by the African Group of Negotiators (AGN).
The proposal falls in line with the UN Secretary-General's sustainable energy for all initiative, launched in 2011.
"Our people do produce food but there is no value addition in the last 100years, so what we now need is to introduce energy so that at the smallholder farm level our people can add value to the products they produce," said Robert Chimambo of Zambia Climate change Network.
He believes access to renewable energy would be critical to enable smallholder farmers add value at the farm-level for higher income earnings.
Mr. Chimambo was speaking at a press conference organized by the Pan-African Climate Justice Alliance (PACJA) to outline demands of African civil society at the COP20.
"What we need in the context of climate change is resources to roll out small hydropower, solar and other renewable energy to reach the lowest of our farmers and our communities," he noted.
The overreliance on biomass, especially charcoal and firewood, puts pressure on Africa' forest resources.
In an interview, Mr. Chimambo noted that each country would need to find out the cost-effective way of delivering energy to smallholder framers and energy-deficient communities.