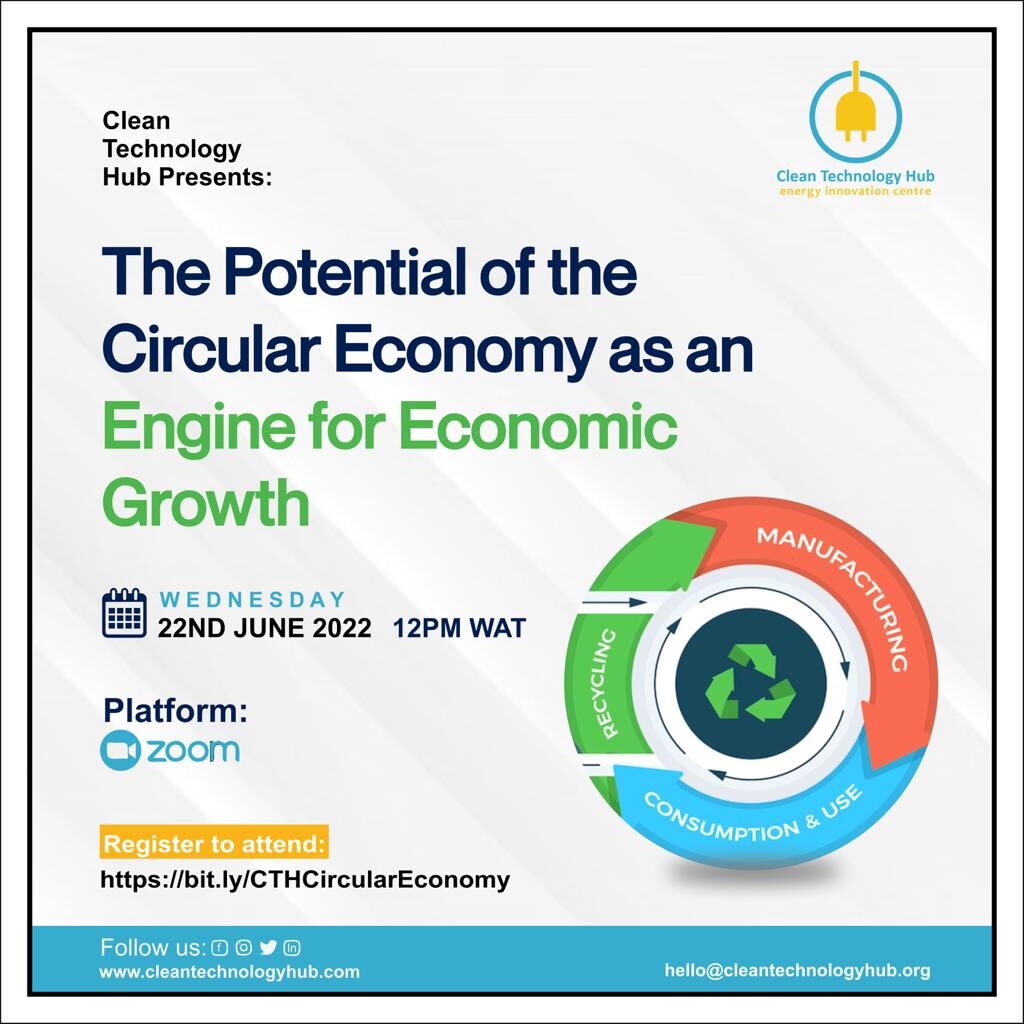 The potential of the circular economy has been described as an engine for economic growth toward a better future. Mr Stephen Abu, Programme Manager at Climate and Sustainable Development Network (CSDevNet) made this known at an event organised by Clean Tech Hub in Abuja on the 22nd of June 2022.
Stephen stressed the need for system solution frameworks that tackle global challenges such as climate change, biodiversity loss, waste, and pollution.
According to him, a circular economy can be seen as a continuous positive development cycle that conserves and enriches the nation, optimise resources and reduces risk by managing renewable flows.
Also present at the webinar was Mr Obinna Nweze, the Stakeholders Engagement Assistant at CSDevNet.
Obinna highlighted that Nigeria generated over 32 million metric tons of economic waste annually, which causes environmental harm and engenders health challenges in the system coupled with poverty and unemployment.
"There is need for Nigeria to look beyond the linear economic system and go into the circular economy which will promote economic opportunity, boost business satisfaction through cooperating social responsibility, increase shift to renewable energy and reduce waste from the linear economy," he said.
Mr Stephen Abu also added that there was a need to engage the government on the importance of waste recycling to the economy of the nation.
"There is an immediate need to shift the economy of the nation from linear to circular which will bring about a reduction in economic, construction waste of the country, create new green jobs and improve employment rate and further reducing the poverty rate of the country," he said.
Stephen outlined how some waste can be used to reproduce new materials instead of sourcing new raw materials for production.
"It would save time, money, energy. Practising a circular economic system is sustainable and saves the environment. There is a need to maximize our output as a nation. If the recycling industry is organized it can help maximize our resources," he added.
"Undoubtedly, the circular economy is one of the keys to economic sustainability, if implemented, it will minimize environmental harm, promote economic opportunities and individual empowerment, boost business satisfaction through cooperate social responsibility and reduce waste from a traditional linear economy," he concluded.