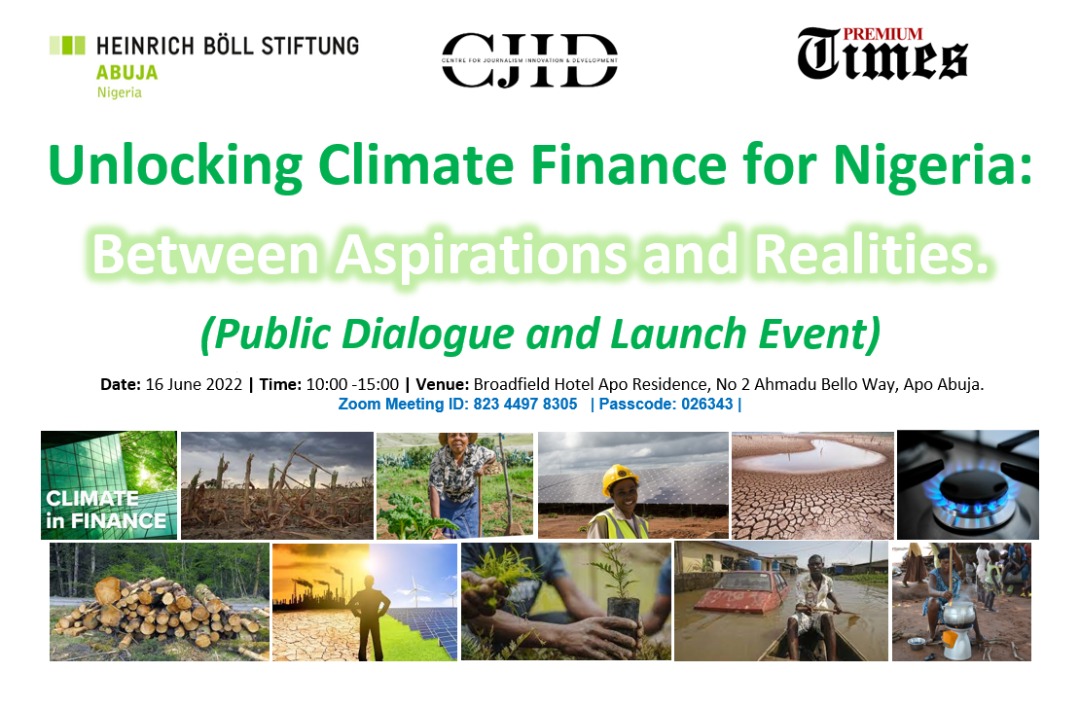 The Climate and Sustainable Development Network of Nigeria (CSDevNet) has urged global leaders to unlock climate finance for the implementation of Nigeria's Nationally Determined Contributions (NDCs).
This was made at the dialogue and launch event organised by Heinrich Boll Stiftung (HBS), Centre for Journalism, Innovation and Development (CJID) and Premium Times on 16 June 2022, under the theme: "Unlocking Climate Finance for Nigeria: Between Aspirations and Realities".
As world leaders, negotiators and all stakeholders plan to demonstrate their unwavering commitment to climate action at the 27th Session of the Conference of the Parties (COP 27) to the United Nations Framework Convention on Climate Change (UNFCCC) in Egypt by November 2022, CSDevNet expects concrete actions and finance on the ground towards securing the 1.5C goal, and adapting to the negative impacts of climate change through the implementation of the provisions of the Paris Agreement and fulfilling the broad array of pledges and commitments made in Glasgow by Governments and other entities.
At the last UN Climate Change Conference, which was held in Glasgow this past November, President Muhammadu Buhari announced Nigeria's commitment to achieving net-zero carbon emissions by 2060. Subsequently, the Nigerian government unveiled an energy transition plan to define a pathway that would enable the country to achieve its objective.
According to Mr Jochen Luckscheiter, Director at HBS, President Buhari signed the Climate Change Act into law upon return to Nigeria to further demonstrate the country's commitment to the global climate change and energy transition agenda – and making Nigeria the first major developing country to commit to set annual carbon budgets to plot its path to cutting emissions to net zero.
"However, the implementation of climate change mitigation and adaptation efforts in developing nations like Nigeria continues to be severely constrained by a lack of financial resources," he opined.
"Instead of marking the beginning of what the UN framed as a decade of action on climate change and development, the 2020s has seen Nigeria and many other developing countries being pushed into economic recession and deeper debt due to the COVID-19 pandemic," Jochen continued.
"This further hampers their ability to fulfil their commitments to achieve the Sustainable Development Goals (SDG) and to contribute to the attainment of the Paris climate goals," he concluded.
Enogba Ende, Finance Officer at CSDevNet, highlighted that the climate conference in Glasgow delivered weak outcomes on the provision of climate finance.
"To give but one example, in this rather complex and multi-layered debate on climate finance, the USD 100 billion that industrialised countries are supposed to provide annually for developing countries from 2020 onwards will not be reached until 2023," she said.
Enogba added that: "regarding negotiations on a new financial target by 2030, the African Group insisted on a sum of up to USD 1.3 trillion, while the industrialised countries remained silent on the figure to be targeted. As the Bonn Climate Change Conference draws to a close today, the issue of climate finance remains a contentious issue – with developing countries continuing to air their frustrations."
Mr Umoru Ameh, Finance and Admin Assistant at CSDevNet, mentioned that the investment needed for Nigeria's climate commitments appears more daunting than ever before. And that the estimated cost of implementing the country's NDC alone, which would lower Nigeria's emissions by up to 47% compared to the business-as-usual scenario by 2030, is 74 trillion Naira.
"This cost does not even consider the damage and loss induced by the growing impact of severe weather events that are becoming more frequent due to climate change. Nor does it include the cost of restructuring Nigeria's economy away from the oil and gas sector," added Umoru.