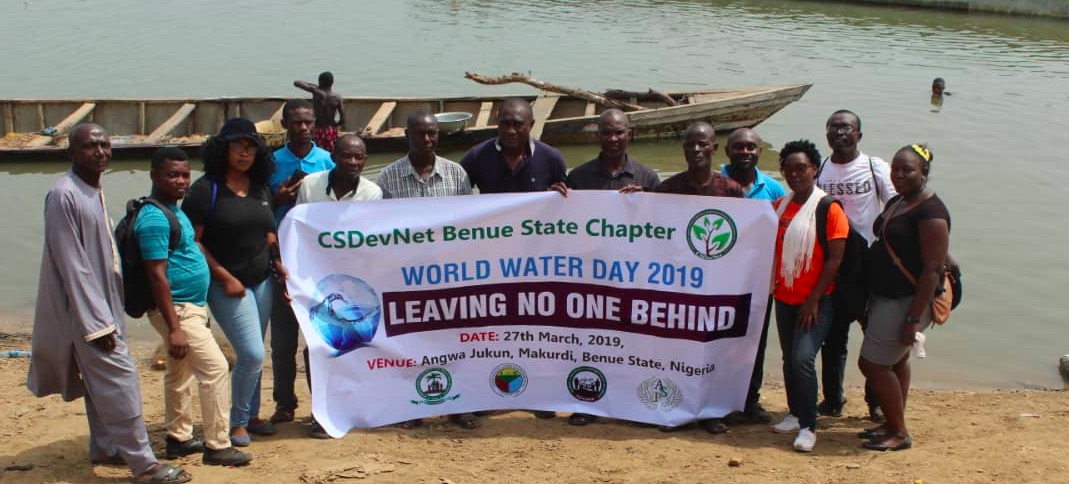 The people of Angwan Jukun Community of Awe Street Makurdi, Benue State have been enjoined to protect their water source which is the River Benue and also manage domestic water use.
The call was made during an advocacy and training session held in the community to commemorate the 2019 World Water Day.
Organised by civil society actors under the auspices of Climate and Sustainable Development Network (CSDevNet) in collaboration with Gender and Environmental Risk Reduction Initiative (GERI), Gender and Community Empowerment Initiative and Good Health Living Environmental Foundation (GOHLEF), the session comprised community leaders, women groups, youth and children.
While facilitating the session on protecting water source, Mr. Victor Asobo, Executive Director of Good Health Living Environmental Foundation (GOHLEF) advised the members of the community to desist from contaminating the river as they use the water for drinking, cooking and every other domestic activity.
"indiscriminate dumping of refuse blocks water channels and can give rise to breeding of mosquitoes as well as using pesticides on farms close to the river as they are washed into the river and continued consumption may lead to liver and kidney infections," he said.
He also stated that using chemicals for fishing destroys the ecosystem and therefore charged them to use fishing nets and hooks instead.
Mr. Raymond Terban Programme Officer, Gender and Environmental Risk Reduction Initiative, urged members of the community to inculcate good hygiene practice and maintain proper sanitation around their environment.
He went further to emphasise the need to stop defecation in and around the river as it is their major source of water and clean water is a prerequisite to healthy living thus the recognition of water as a human right by the United Nations.
Sustainable Development Goal 6 (SDG 6) states that availability and sustainable management of water for all should be achieved by 2030.
Today, billions of people are still living without safe water which means safely managed drinking water service: water that is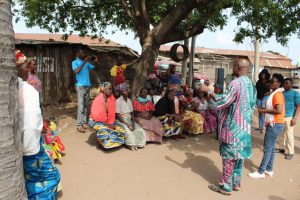 accessible on the premises, available when needed and free from contamination and the 2019 World Water day's theme is aimed at leaving no one behind.
On this premise, the civil society leaders took the people of the community through the process of water purification using water guard. This was demonstrated by Shirley Anikpe Programme Officer, Gender and Community Empowerment Initiative, as she showed them the ways they could measure their water and the quantity of water guard to use for each content. Other common ways of purifying water such as boiling and sieving water before drinking were also emphasised.
Engr. Peter Danjuma, a member of the Angwan Jukun community who spoke on their behalf appreciated the sensitization exercise and promised that the community will inculcate the practices emphasised by CSDevNet and partners to protect their only source of water.