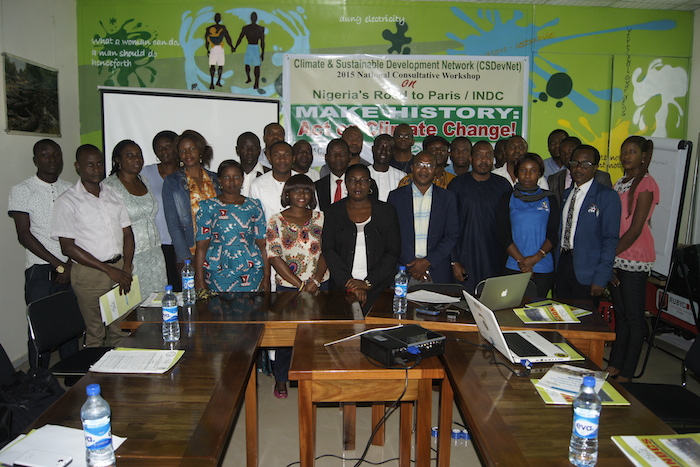 For two days, civil society groups under the umbrella of Climate and Sustainable Development Network of Nigeria (CSDevNet) ,gathered in Abuja to explore ways of boosting and enriching Nigeria's preparations for the forthcoming historic climate conference in Paris by December 2015.
The two-day event which was organized in collaboration with the Pan African Climate Justice Alliance (PACJA), action2015 and the Pan African Media Alliance for Climate Change (PAMACC) began with a media roundtable on Nigeria's road to Paris on the 12th of August ended with a national civil society consultative workshop on Road to Paris, INDCs and the SDGs.
Addressing the workshop which attracted participants from the six geo-political zones of the country, Atayi Babs, the CSDevNet National Network Coordinator  said that "From Lima to Paris, lies the pathway to a sustainable future for the world and Nigeria in particular as the window of opportunity for avoiding dangerous global temperature levels is fast closing."
Speaking on the the State Of West Africa's Preparations For Paris COP21, Bougonou Djeri-Alassani, ECOWAS' Head of Environmental Policies and Regulations, identified capacity building of West African negotiators as part of the organization's strategic engagement ahead of the new climate treaty to be signed in Paris.
Many Nigerian civl society leaders and journalists at the workshop identified the need for Nigeria to make the process of preparing the intended nationally determined contributions (INDCs) as well as preparations for the Paris summit open and all-inclusive  as the 2015 frameworks would greatly impact on all Nigerians from north to south.
Calling for more constructive involvement of the media and women in Nigeria's post-2015 processes, the workshop participants commended CSDevNet's efforts at unifying and coordinating isolated civil society efforts on climate change advocacy and ensuring that people-centred response mechanisms are being accorded desirable attention and relevance in Nigeria.
With a membership of over 300 organisations cutting across the six geo- political zones in Nigeria, Climate & Sustainable Development Network of Nigeria (CSDevNet) brings together organizations, comprising grassroots community practitioners, trusts, federations of slum dwellers and pastoralists, home based caregivers, youth, media, women and faith-based organizations, including those working on child welfare, the elderly, disabled and those focusing on livestock and animal welfare, to commonly promote and advocate pro-poor, climate-friendly and equity-based responses to climate change.