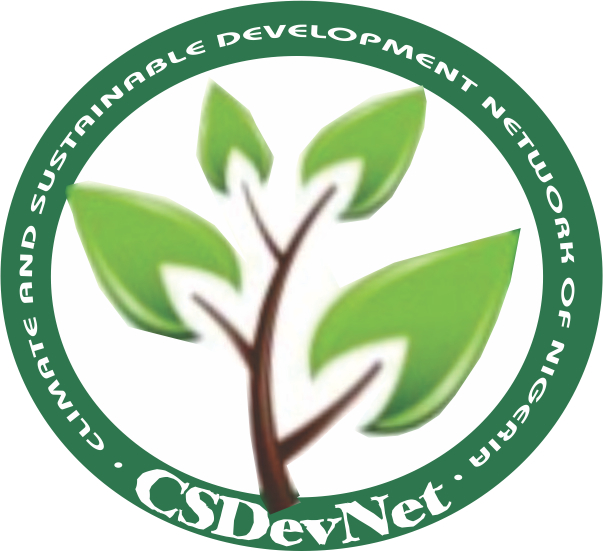 WE ARE HIRING
About CSDevNet
The Climate and Sustainable Development Network (CSDevNet) is Nigeria's leading civil society network on climate change and sustainable development comprising non-state actors ranging from civil society to private sector, community associations, farmer groups, youth and women groups, media networks, faith-based and research institutions. The Network promotes and advocates pro-poor, climate-friendly and equity-based responses to climate and sustainable development issues. The CSDevNet unifies and takes to scale, isolated civil society efforts on sustainable development in Nigeria to ensure that people-centred response mechanisms are accorded desirable attention and relevance on a broader scale.
                                                                                   POSITION DETAIL
Job title
Senior Programme Officer
Department
Programme management
Location
Abuja
PURPOSE OF POSITION
Under the leadership of the National Network Coordinator (NNC), the Senior Programme Officer will lead the programme team to ensure high quality of programming, strong bankable proposal designs that are in line with CSDevNet's objectives and priorities. S/He will directly support the project's/programme's initiative to provide professional advice and input to, and to cooperate with, a broad range of target groups. The Senior Programmes Officer will liaise internally with CSDevNet's partners and with external stakeholders and ensure all the Network's programmes in the country maintain high standards, in line with international best practices.
JOB CONTEXT
The Climate and Sustainable Development Network (CSDevNet) host a coalition of over 300 members and has over the years provided vistas for facilitating a climate-resilient and sustainable Nigeria. In a bid to strengthen its capacity and efficiency for delivery, and in line with set protocol, CSDevNet seeks to recruit a competent Senior Programme Officer to provide leadership and support its programmes in Nigeria.
Main Responsibilities
Programme Implementation
·         Lead the process of resource mobilization through bankable proposal writing.
●      Lead the development and the implementation of project/programme plans and activities in close coordination with counterparts and NNC.
●      Support the National Network Coordinator (NNC) in the procurement of contracted third parties in carrying out project/programme activities, and lead the performance evaluation and monitoring of country work plans
●      Develop strategies, guidelines, manuals, and procedures for programme implementation.
Networking
●      Co-operate with and ensure regular contacts, dialogues with the national and state government, local communities, relevant organisations, non-governmental bodies and persons within the programme/project's environment as well as with other projects in order to enhance and maintain good working relationships
●      Communicate and channels local interest and aspirations and exchanges ideas and information for the benefit of the programme
●      Maintain repeated field visits to operational areas in accordance with the requirements of the programme/project
Programme Management & Networking
●      Oversee overall programme management of programme and ensures timeous, continuous delivery of activities
●      Manage relationships with key stakeholders in collaboration with the country and regional collaborators
Fund Raising
●      Lead partnership development and resource mobilization
●      Work closely with the NNC and Secretariat team/colleagues to develop fundraising strategies
●      Liaise with NNC to package impacts, results and learnings as the basis for fundraising
●      Take leadership in working with NNC and the Secretariat team/colleagues to develop concept notes and proposals for funding.
●      Proactively searches and reports on funding opportunities and facilitate the response of the Secretariat team/colleagues to these opportunities
Monitoring and Knowledge Management
●      Monitor programme progress, reviews reports, and documents concerning the progress of collaborative programmes determine bottlenecks and make recommendations for management action to the NNC.
●      Promote learning and knowledge sharing of innovative ideas documenting successes and building them into the design of new approaches
●      Compile information about the project/programme and ensures knowledge transfer
●      Develop strategies and technical concepts including guidelines, manuals, and procedures,
●      Prepare reports and presentation materials
●      Prepare appropriate input to the various project/program reports/publications including annual reports; contributes to other reports required by the NNC and the Board.
●      Support research and study activities on policy topics that will benefit collaborative programmes
Management and Coordination Tasks
●      Prepare the budget for key events and related financial documentation
●      Monitor the operational budget against the contract and programme agreements components
●      Compile relevant information for collaborative activities and missions
●      In the absence of the NNC undertakes appropriate actions to facilitate the continued operation of the programme
People Management
●      Responsible for the management of personnel, finances, and infrastructures of the entrusted area of activity
●      Responsible for the personnel management of his/her programme/project staff.
●      Plans, coordinates and organises within the project team
SKILLS AND KNOWLEDGE
 
Minimum Required
Preferred
FORMAL EDUCATION
●      Bachelor Degree or HND in Development Studies, Natural Resource Management or Climate Change and related field

●      Specialization in a field related to the project/programme goals.

Bachelor's degree or HND in environmental science

EXPERIENCE
●      Minimum 4 years of professional working experience in a similar position

●      Work experience in other reputable organisations (Private or Non-governmental organisations, consultancies, bilateral development agencies

2 years in a supervisory position
COMPETENCIES
KNOWLEDGE
●      Managing programmes of similar nature in the NGO industry

●      Project Management

●      NGO Management

●      Knowledgeable in the natural resource management, environment, forestry, renewable energy, climate change and/or SDGs

●      Policy engagements

SKILLS
●      Excellent command of MS-Office

●      Good working knowledge of modern ICT systems

●      Communication skills (French would be an added advantage)

●      Budgeting

●      Report writing skills

●      Leadership
TERMS AND CONDITIONS
This post is based in Abuja, Nigeria and it is offered an initial 1-year contract , including a 3-month probation period. The contract is renewable upon satisfactory progress performance.
The standard working period is 40 hours per week. However, the demands of the job are likely to be such that willingness to work longer hours may be required if
CSDevNet is an equal opportunity employer that will not discriminate against any employee or applicant on the basis of race, colour, religion, sex, physical disability, or age as female candidates are strongly encouraged to apply
Only candidates under serious consideration will be contacted.
APPLICATION PROCEDURE
To apply for this position, please send the following documents to info(at)csdevnet(dot)org on or before the close of business on 31st July, 2023:
Cover letter (maximum of 1 page)
CV (maximum of 3 pages with referees)