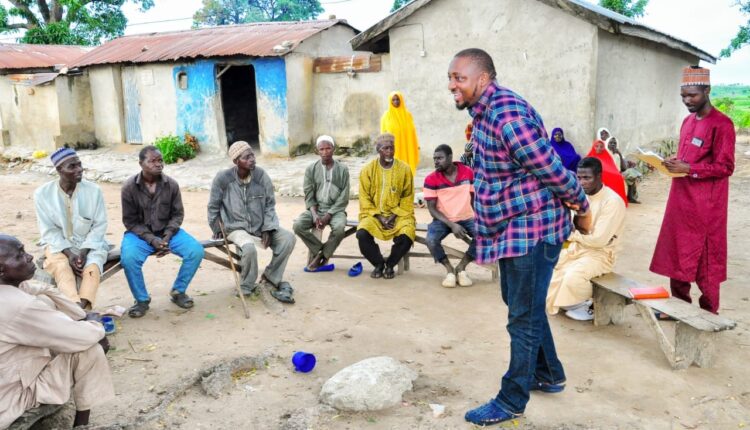 Vulnerable local communities across Nigeria lack the knowledge of climate change and it's effect on their health and wellbeing, which is a major gab that affects their day to day activities and health status unconsciously.
In response to this, a Townhall meeting on community action on climate change and health was held at Pmapi Village, one of the gold mining communities of Chanchaga local government area in Niger State, Nigeria.
The event was conceptualized by Youth Voyage of Nigeria (YVN) with support from the Climate and Sustainable Development Network (CSDevNet) and Pan Africa Climate Justice Alliance (PACJA).
The goal of the activity was to sensitize vulnerable community members that were largely affected by climate change of the impact of the climate crisis on their mental health. It also aimed to help the communities understand the global agenda of climate action better.
During the event, members of Pmapi community expressed their excitement and reception of the outreach activity. They attested that it was the first time they were being called upon to discuss the effect of climate change on their health and wellbeing.
The community highlighted that they moved from farming occupation to gold mining drastically due to repetitive loss of crops to floods (from overflowing Niger dams) annually.
"We had several canopies of mango trees prior to this new settlement with trailers coming to buy mangoes but now, these have been given way to mining layouts," they said.
During the outdoor gathering, there were presence of artisanal miners passing with excruciating activities ongoing that worries the community members, to an extent, the community lamented on the invasion on their residual farmlands.
The Women Coalition Group of Pmapi community, having understood the dangers of mining activities to the environment and their health from the event, pleaded for alternative source of livelihoods as they now saw mining as their only source livelihoods.
"It was really hard for us because we needed to survive, support our husbands, fend for the other widows and our young ones. We appreciate the organizers and hope they ensure that our pleas get to all relevant authorities as we commit to making our community habitable and safe," they concluded.