The Climate and Sustainable Development Network (CSDevNet) held a multi-stakeholder workshop in Kogi State, from June 20th – 21st, 2023 to strengthen the capacity of multi-stakeholders to lobby for an increase in the allocation of financial resources to local adaptation initiatives.
Giving his opening remark, Mr Stephen Abu, National Network Coordinator of CSDevNet highlighted how more funding for adaptation was an essential component of the growing international climate change framework.
"A nation's susceptibility to climate change is determined by both its physical impact and its potential for adaptation. The idea that more vulnerable nations should have a larger claim to resources for adaptation makes it economical and just," he said.
"Implementation capability adds a metric for measuring the success of adaptation. Due to their extremely limited potential for adaptation as well as the severity of the anticipated repercussions, African countries are extremely susceptible. Their capacity for project implementation, however, is similarly constrained, indicating a requirement for technical support," he added.
The key presenter at the workshop, Mr Otene John, outlined how finance for local initiatives can assist communities lower their risks and potential damages from climate hazards such as storms or droughts.
"The returns from successful adaptation are substantial, but so is the scale of investment required. A recent World Bank estimate puts the funding required for adaptation in developing countries, both public and private, at $75–100 billion a year," he said.
He mentioned that, "estimates by the United Nations Development Programme are of a similar order of magnitude, while the UN Framework Convention on Climate Change expects adaptation costs of $27–67 billion a year in developing countries and $44–166 billion a year worldwide. The Global Commission on Adaptation (GCA) was established in September 2019 with a locally-led action track that encourages governments and funders to expand financial resources available to local governments, community-based organizations, and others working at the local level so that they can better identify, prioritize, implement, and monitor adaptation solutions."
And, "in an effort to improve Nigeria's ability to plan and budget for initiatives that would increase resilience to the effects of climate change, the Federal Government of Nigeria has started a new project to create a National Adaptation Plan."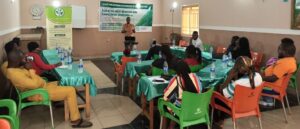 "However, localized adaptation efforts in underdeveloped nations continue to be hindered by inadequate resources, despite policy changes that emphasize the significance of local leadership more. According to some estimates, less than 10% of all climate adaptation funding to date has reached local governments, community-based organizations (CBOs), local non-governmental organizations (NGOs), and households," Mr Otene continued.
He said, "local finance empowers local people and local institutions to decide and act for themselves. Devolving decision-making effectively can make investments relevant, sustainable, accountable, and of good value. Upscaling funding at the local level may generate sustainable results while developing capacities and generating climate-positive development benefits."
"Through participatory land and resource planning, local engagement has given local stakeholders the chance to significantly shape the use of resources at the local level. In other cases, it has also been crucial in reducing potential adverse social and environmental effects. Analyzing practical interventions, such as those supported by the Adaptation Fund, is necessary to expand the body of knowledge on locally driven action," he concluded.